Contact FTAList.com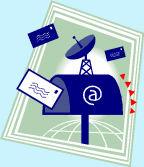 Here's how to get the fastest response
Take a look at the following reasons to contact us to see the best way to do it.
(If you want to see FTAList's privacy policy, scroll to the bottom of the page.)
If you need the steps to do something for your particular model of receiver:
This isn't the place to find those steps. We're not experts on every FTA receiver model in existance. Or even very many of them.
To find the answer, search the internet. You might find the manufacturer's site, which might have a manual available for download. You might find some discussion forums where folks who own your receiver model chat about what's possible with it and how to do it.
If you have a general problem with your FTA setup:
The fastest answer is the one you might get immediately by checking the Troubleshooting page. You might also try the Frequently Asked Questions page or even the Getting Started section.
If none of that works for you, then send an email to contact@ftalist.com. We'll get back to you when we can.
If you've found a channel that's not listed here:
That's great! There are always new channels popping up at unexpected times. Just send an email to contact@ftalist.com to let us know about it.
If you don't see a channel that is listed here:
First check that you can see other channels on the same satellite. Then you might try a blind search to see whether the channel has changed PIDs or hopped over to a different transponder. If you think it's really gone (it happens), then send an email to contact@ftalist.com to let us know about it.
If you know of a term that we ought to add to the Glossary page:
If you're dying to know right away what your term means, check Wikipedia for it. If it's not there, try searching the web for your term plus "definition". If you just want to add it, then send an email to contact@ftalist.com.
If you want to add a site to the FTA Links page:
First make sure that the site has nothing to do with piracy; FTAList never knowingly links to any pirate site. If it passes that simple test and it has almost anything to do with FTA, then send an email to contact@ftalist.com to let us know about it.
If you find a mistake on FTAList:
We meant to do that. Well, maybe not, but there will frequently (always?) be some errors on FTAList, and anything you can do to help us get a little better is appreciated. Please send a friendly email to contact@ftalist.com to let us know about it.
If you need help finding files or keys or other stuff to help you watch pay-TV without subscribing to it:
You are seriously in the wrong place! What you're talking about isn't FTA, it's piracy. If you live in the US and want to watch most Dish Network channels, call 1-800-333-3474. If you live in Canada and want to watch most Bell TV channels, call 1-888-759-3474.
Privacy Policy
Some advertisers and other site-watchers like to see an official privacy policy, so here it is. You don't have to provide any information to use this site, and that's a great way to ensure that no one will ever do anything with your information. That you didn't provide.
Some advertisers may set a tracking cookie on your computer. The reason for the cookie is to make sure that if you visit an advertiser, then decide to buy something a few days later, FTAList still gets a commission. You may also see a cookie from a traffic measurement company, and FTAList might start using cookies to track your list-sorting preferences. These cookies are pretty standard and pretty benign. In the unlikely event that any advertiser starts misbehaving, please let us know so we can check it out.
(By the way, if you ever see a pop-up ad when you visit here, then your computer has a problem. It didn't come from us. We hate ads that pop up, slide in front, or do anything else that demands that you close it before you can get to what you want. Advertising pays the bills, but you, the visitor, are the reason FTAList exists.)
If you send an email to FTAList, that email will be stored along with all other site-related emails. Your email address and any other information you volunteer in a private email will never be sold, rented, or given to anyone else, except in the very unlikely event that FTAList is required by law to hand it over.
Disclaimer
As mentioned above, FTAList.com is likely to contain some inaccuracies. Please use common sense when using the information on this site. FTAList.com is not associated with or endorsed by any channel, dealer, or advertiser. All trademarks are the property of their owners.